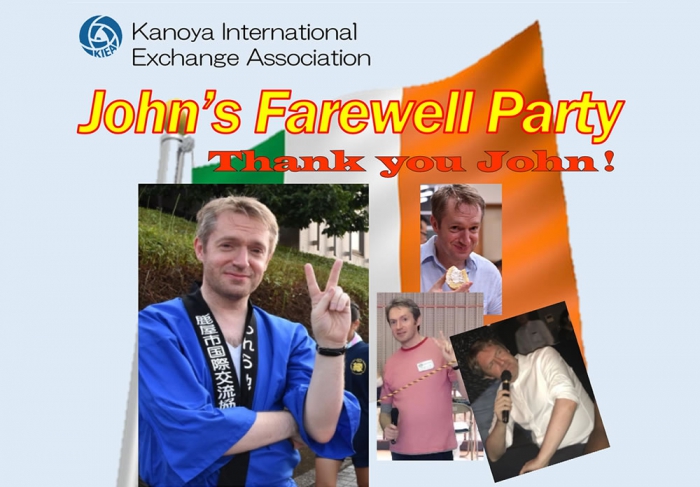 Information regarding a farewell celebration for John, Kanoya City's Coordinator for International Relations.
John Mc Kiernan, Kanoya's CIR and someone who has provided great assistance to our association, will leave Kanoya in July.
This being the case, we're going to hold a farewell event for him as follows. If you wish to take part, please contact us using the information detailed below.
※Information will also be sent to KIEA members separately, by post and in our mail magazine.
Let's all give John a cheerful and enjoyable sendoff!
Application needed!
Date and Time
Saturday 6th July, 2019 from 7pm to 9pm (entry from 6:30)
Place
Hotel Kobayashi(Kanoya City Mukae-cho 4-15)
Participation Fee
4,000 yen per person
※please consult with us regarding prices for children etc.
Application method
Please direct enquiries and applications to us by phone
Application cutoff date
Thursday, June 27th
※If you can help receive guests, etc. on the evening in question, please don't hesitate to tell us.
※Please acknowledge that we cannot accept cancellations after the 2nd of July
For reference
Further Notice
Furthermore, also on Saturday July 6th, we'll be putting on a bowling event for those interested, particularly as John has never bowled in his life, and it's a good chance to create some memories.
※ Please note, this is not a KIEA event
If you are interested in taking part, please contact us
Date and time:Saturday, 6th of July, 13:00~15:00
Place:Kasanohara Bowling Centre
Participation fee:plan for about 1,500 yen
How to join:Direct enquiries and applications to us by phone using the contact details provided
Application cutoff date:Thursday 27th of June
Enquiries/Application details