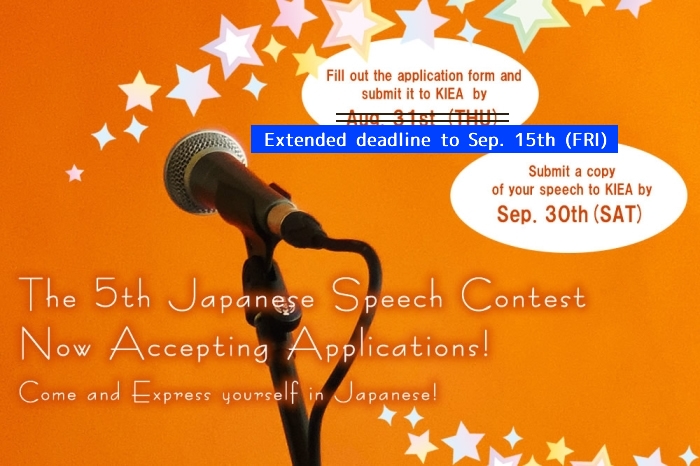 KIEA presents
The 5th Japanese Speech Contest
Now Accepting Applications!
Come and Express yourself in Japanese!
Details
Date and Time
Oct. 15th / 2023 (SUN) PM 1:00~
Place
Higashichiku Gakushu Center
Address: 114-2 Shinkawa-cho, Kanoya
Speech themes
Any; however, please refrain from political and/or religious topics.
Speech length
Maximum 5 minutes / person
Who is eligible
Those who fulfill criteria (1)-(3)
(1)Non-Japanese nationals who currently reside in Kagoshima Prefecture.

(2)Those whose native language isn't Japanese.

(3)Those who haven't received 1st place in past contests.
Awards
1st , 2nd, 3rd place and/or more (prizes available).
How to sign up
 STEP 1 
Fill out the application form and submit it to KIEA by Aug. 31st (THU).
Extended deadline to Sep. 15th (FRI)

 STEP 2 
Submit a copy of your speech to KIEA by Sep. 30th(SAT).
How to submit
Either by email, fax, post or in person.
Where to submit
KIEA office
 E-mail 

 FAX 
0994-31-1172
 Address 
20-1 Kyoei-cho, Kanoya city
(Regional promotion division,Kanoya city Office)
Notes
Applicants whose applications have been received will be contacted by the personnel in charge at the email address provided on the application form.
KIEA will record this speech contest and may release the contents for publicity purposes.

Inquiries
KIEA office (Person in charge: Fujimoto).
Email
FAX 0994-31-1172
TEL 0994-31-1147
Address 20-1 Kyoei-cho, Kanoya city